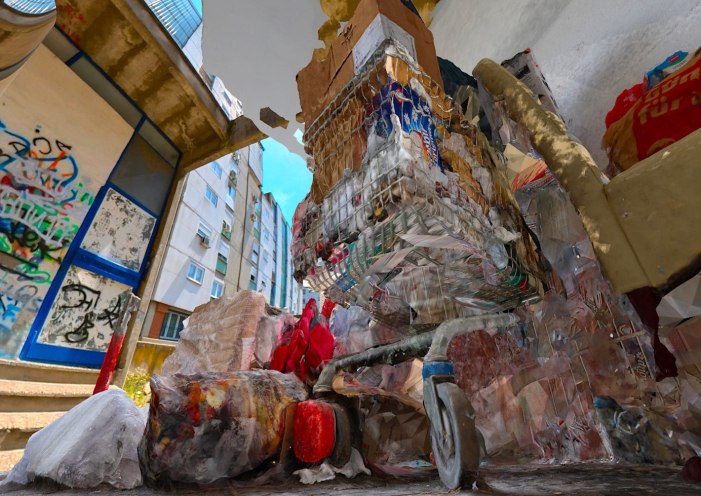 Video-Link 3D Stadt/Müll
Video-Link Ausstellungsansichten
Video-Link 3D Stadt/Müll E-Roller
3D-Game Download, 3.3 GB
for Linux
for Windows
New Demo-Level, 415 MB
for Linux
for Windows
for Mac
Controls:
W, A, S, D -Keys: Movement
Mouse: Viewing Direction
Mouse-Wheel: Head higher / lower
Space-Bar: Jump
Enter: Starting Position
Tab-Key: Destruction of building cubes
Through the Glass-Lens you can enter the next World.
Have Fun!
3D Photogrammetrie Stadt/Müll
Benjamin Renter
Stadtmülluntersuchung, digitale Medien/
City trash analysis, digital media
26.11. – 10.12.2022
Eröffnung/Opening: Fr., 25.11.2022, 19:00
Die virtuellen Müllskulpturen in der Ausstellung im Spor Klübü wurden mit Photogrammetrie aus zahlreichen Einzelfotos erzeugt. Diese häufig in der Archäologie verwendete Technik wird zum genauen Erfassen von Gesteinsformationen verwendet. Wird zufällig angesammelter Müll damit aufgenommen, kann dessen kurzzeitiger Zustand fixiert werden – als räumliche Momentaufnahme einer flüchtigen Assemblage. Der Müll wird damit konserviert und bleibt als digitale Skulptur in Erinnerung. Plastikverpackungen, Einkaufswagen voller Bauschutt von Gebäudesanierungen und Ablagerungen in Hausdurchgängen und Gebäudeecken schaffen ein eigenes Stadtbild.
In dem Prozess entstehen Fehler. Wurden nicht genug Perspektiven fotografiert, ergeben sich Fragmente, deformierte Formen und Oberflächen, die gerade nicht fotorealistisch erscheinen. Zudem provozieren spiegelnde und metallische Objekte Abweichungen bei der räumlichen Zuordnung. Die digitalen Skulpturen sind hohl. Der Müll zeigt Negativformen an den Unterseiten, ungewohnte Plastizität und Verformung. Dies wirkt verstörend. Es entsteht ein Widerspruch zwischen Müll und Ästhetik.
Es wird auf Drehungen, Details, ungewöhnliche Raumkippungen und Perspektiven sowie auf Auflösung des digitalen Materials abgezielt. Bewegte Ansichten und Details der Modelle werden zur Verstärkung des plastischen Eindrucks als Projektionen im Raum präsentiert, in deren Lichtgang sich die Besucher/innen stellen können. Die Skulpturen wurden mit weiteren Aufnahmen in ein interaktives Spiel eingebettet, um größere dystopische Stadtumgebungen zu schaffen. Dieses ist auf einem Bildschirm über einen Spielekontroller steuerbar und ermöglicht eine freie Untersuchung der Müllskulpturen und Stadtumgebungen aus der Ich-Perspektive.
Das Spiel und die bewegten Bilder des 3D-Mülls werden parallel zur Ausstellung auf der Webseite www.renterphoto.de zur Verfügung gestellt.
Text: Aleksandra Miljković
English version
3D Photogrammetry City/Trash

The virtual trash-sculptures in the Spor Klübü exhibition were created using a 3D synthesis from numerous individual photos. This technique, photogrammetry, is often used in archaeology to precisely record rock formations. Using it to photograph randomly accumulated trash, however, catches a momentary state – a spatial mapping of a fleeting assemblage is thereby produced. The trash is thus preserved and remains in memory as a digital sculpture. Plastic packaging, shopping carts full of construction debris from building renovations, and rubbish in house passageways and building corners create their distinct cityscape.
Mistakes arise in the process. If an insufficient number of perspectives have been photographed, the results are fragments, deformed shapes, and surfaces that are unphotorealistic. In addition, reflective and metallic objects provoke deviations in spatial localization. The digital sculptures are hollow. The trash shows deformation, odd plasticity, and negative forms on the undersides: an unsettling/disturbing effect.
Rotations, details, unusual tilts of space and perspectives and dissolution of the digital material are intentional. Moving views and details of the models are presented as space-filling projections which visitors enter. The sculptures were embedded with other footage in an interactive game to create larger dystopian city environments. The game is controllable on a screen via a game controller and allows free exploration of the trash sculptures and city environments from a first-person perspective.
The game and moving images of the 3D trash will be made available on the website www.renterphoto.de concurrent to the exhibition.
Text: Aleksandra Miljković
Gefördert durch die Beauftragte der Bundesregierung für Kultur und Medien/
Sponsored by the Federal Government Commissioner for Culture and the Media
Neustart Kultur
BBK
Spor Klübü
Freienwalder Str. 31
13359 Berlin
U8 Pankstr./S Bornholmerstr.
www.koloniewedding.de/sporkluebue
www.sporkluebue.de
Öffnungszeiten/Opening times:
Mi/Wed-Sa/Sat, 15:00-18:00 + So/Sun, 27.11., 15:00-18:00
Beim Besuch gilt die Einhaltung der aktuellen Hygieneregeln des Landes Berlin./During the visit, compliance with the current hygiene regulations of the state of Berlin applies.
Gefördert von (Stipendium für Betreiber*innen künstlerischer Projekträume und -initiativen 2022)/
Sponsored by (Grant for operators of artistic project spaces and initiatives 2022)
Spor Klübü ist Mitglied von/is a member of:
Kolonie Wedding e.V. (www.koloniewedding.de), Netzwerk freier Berliner Projekträume und -initiativen e.V. (www.projektraeume-berlin.net)